Looking out for a digital marketing agency for restaurants that can boost your revenue? The restaurant industry is one of the most challenging sectors to enter into, far less excel in. Small businesses constantly face an uphill battle, because 50% of restaurants fail within the first five years. If your food business is more intense, then how can you enhance it? We as a top digital marketing agency for restaurants in Hyderabad offer strategic ways on how you can be a game-changer in the food business.  
Knowledge of how to market is the key to the success of any business. You should respond to queries like "How can my city know that I am here now?", "How can I draw visitors to my place?". This article would answer these issues. We'll be able to support you in every way we can. Please refer to our post for the 6 best approaches digital marketing agency for restaurant undergoes to improve revenue. 
Create a website for your restaurant
The first thing we as a digital marketing agency for restaurants, would propose you build your own website for the restaurants. Although if you own an eatery or shop, your storefront has little or no effect on the reputation of your business. Consumers tend to base their decisions on where they go online to learn more about a product or service provided by the restaurant. If your restaurant's website seems clunky, visitors are more likely to visit another competing restaurant's website.
Your website should be professional and flexible, functional, and efficient. Visitors need to be able to locate their way around your site.  Through this website, you can carry out different functionality rather than depending upon 3rd party apps for table reservation, food ordering, special orders, and many more.
You should take time and money to make all the professional images of your restaurant. The food will look more appetizing, and also your staff will be much better looking with the new uniforms. This technique will give existing clients a feeling of belonging to your business.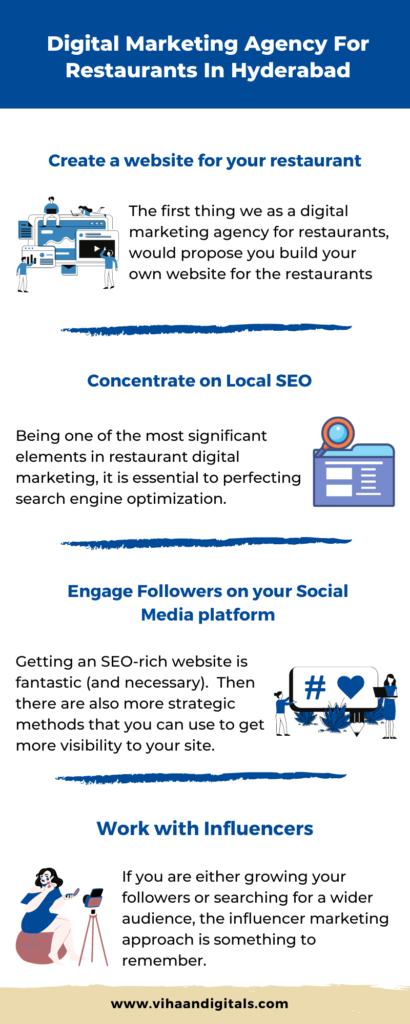 Concentrate on Local SEO
Being one of the most significant elements in restaurant digital marketing, it is essential to perfecting search engine optimization. SEO is one of the most effective marketing tactics because it helps a business acquire lots of customers. When people search for Italian restaurants near them, your SEO rating will determine how quickly they find you.
Regardless of whether people are residents of the same locality or travelers, you need to make sure your website's SEO makes you a major local website. You can boost your website SEO via the following actions:
Develop an exciting content-rich blog on your website.

Keywords should always be carefully chosen to ensure that the pages rank highly on search engines (metadata embedded in pictures, videos, headings, etc.)

Link back to the main webpage and use the external links (to affiliate websites, sources of data, etc.)

Open a Google+ account.

Make sure your details are repeated multiple times and easy to find.
If you are new to internet marketing, SEO can be a terrifying experience. If you want to educate yourself on search engine optimization, contact us or search for more information.
Engage Followers on your Social Media platform
Getting an SEO-rich website is fantastic (and necessary).  Then there are also more strategic methods that you can use to get more visibility to your site. It can be seen that 70% of adults are on Social media. This means that 70% of prospective consumers are likely to sit in that one establishment.
Digital marketing for restaurants is purely half complete without a social media strategy. By utilizing social media, you can win valuable presents from customers who are likely to be repetitive clients. The best part is you have several options for low and premium-free ads.
You can benefit in many ways by starting contests for free meals, gift cards, or cash. You can get more traffic by getting people to like your page and share it with other social media networks. Also, it will make followerships more popular and expose them to the competition.
Instead, search for paid social media marketing which allows you to regulate your campaigns at the amount of money you want to spend per day and your target audience (based on age, gender, location, and more). You can view the analytics of growth and achievement through your ad. You'll be willing to see how each advertisement has performed in terms of engagement (likes, re-tweets, replies, clicks, and shares).
Work with Influencers
If you are either growing your followers or searching for a wider audience, the influencer marketing approach is something to remember. Social media influencers are individuals who have established credibility in certain industries or demographics, which usually results in thousands, millions, or even billions of followers.
It is recommended that you invite for free at least two food industry influencers in your immediate surroundings. If your dishes turn out to be highly favored by your potential patrons, you can organize a marketing campaign. In exchange for writing posts about the restaurant, they can charge a fee to write about it. You can provide free food for their family.
Impact of Online Reviews
When deciding on how to spend money on food and dining experiences, remember that most people need a little reassurance. One of the major reasons why people go online for restaurant research is to determine whether others had visited the establishment. Take full advantage of the many reviews available for quick and easy customer reviews of your company.
Recommend any single customer to write a summary of your food on Google maps or your social networking page. Most people need to be motivated; so offer a discount code on their next meal once they've completed the service. The idea that those claiming the contest will check your restaurant, does not mean that they will be going to your establishment the next moment for lunch.
Exceptional Online Engagement 
Consistency is vital, we as a digital marketing agency for restaurants offer you with best digital marketing services in Hyderabad to make your social profile even greater! If you want a restaurant patron to remember your name, you must make sure it is memorable. So, you need to conduct another advertising campaign every year.
You do not have to spend a fortune to keep the customer coming back to your restaurant. All kinds of little things can help to market your business. It is advantageous to online, run contests, and encourage people to give back.
Conclusion
Success in running a restaurant is not like it used to be. In the past, if your food and service were good, you could open a restaurant in the street for a long time. It is necessary to have a greater amount of effort put into community involvement now as opposed to in the past. Digital marketing for restaurants is a challenge. Our team can help. For any queries relating to a digital marketing agency for restaurants in Hyderabad, contact us today.