It is a no-brainer that the COVID-19 pandemic has taken the world by surprise. We are sure you nod along!  Amidst the economic disruption and emotional chaos, a "new normal" has begun. Never have we ever imagined that we need to rely on platforms like Amazon, Zoom, and WhatsApp to get through the day. Sounds like a blessing in disguise as what could have been the times five years from now has already happened due to COVID. However, with the following digital marketing strategy, you can at least bring the business to the station.
But, the companies are still struggling to position themselves. They don't realize the fact that an Instagram page or a functional website, let alone doesn't do the work. In order for lead generation and increased sales in these challenging situations, you have to make little tweaks to your business strategy. With safety measures like social distancing and no-travel-whatsoever, it is not a cakewalk to bring the business back on track right away.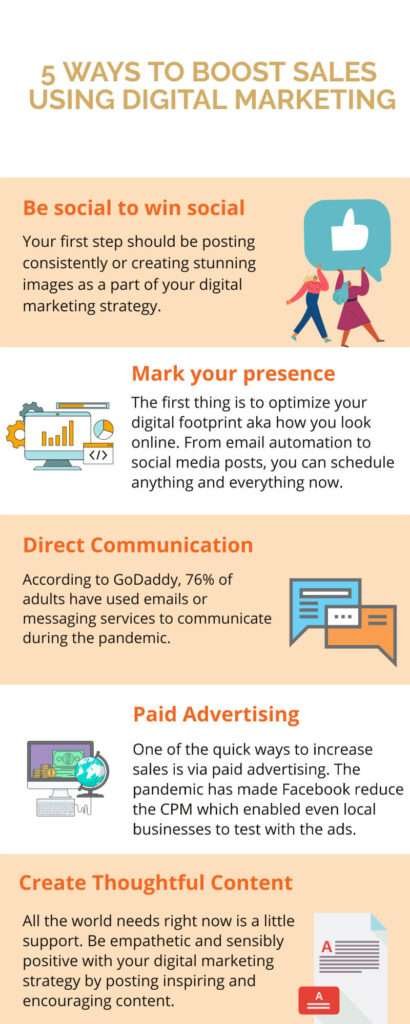 #1 Be social to win social 
Your first step should be posting consistently or creating stunning images as a part of your digital marketing strategy. This could get you a couple of likes or followers but that is not all. In order to build a robust social media presence, you need to be social.
To begin with, thank the followers for the follow, respond to every comment, and give occasional shout-outs to a business you believe is worth a little promotion. For instance, Instagram rolled out a new feature – Instagram Reels that has seen an incredible outburst ever since its launch. Through this feature, you could behind-the-scenes videos, tips to grow in your industry, and anything you can convey in under 15 seconds. Play with filters, add text overlay, and pull some stickers to make it more appealing. In a nutshell, #justreelit.
 #2 Mark your presence.
The first thing is to optimize your digital footprint aka how you look online. Switch to the incognito window and see how the consumers see your business and where all places on the internet are featured. We hope you have already had a website, and social media channels as an initial part of the digital marketing strategy. 
You also need to claim your spot on business listings like Google My Business(GMB), Yelp, JustDial, and whatever works in your region. The search algorithms first look at these places to help browsers find your business, so make sure it is up-to-date and gives a crystal clear picture of who you are and what you do.
Tip: Make each part of your strategy into an online digital-based strategy. The more processes you make online, the more you can stay connected with your audience. From email automation to social media posts, you can schedule anything and everything now. 
#3 Direct Communication 
According to GoDaddy, 76% of adults have used emails or messaging services to communicate during the pandemic. Because of COVID, many businesses have changed the ways they operate like the mode of delivery, the products they don't sell anymore, or offering new products. Either way, it is your duty to keep them posted with the latest information on all We recommend email marketing to inform your customers about any changes.
#4 Paid Advertising
One of the quick ways to increase sales is via paid advertising. The pandemic has made Facebook reduce the CPM(cost per thousand impressions) which enabled even local businesses to test with the ads. In Neil Patel's words, paid ads are producing a greater ROI after Coronavirus; so much so that the ROI has increased from 31% to 53% for certain verticals. 
Also, there is a huge spike in the usage of social media applications. An average user reportedly spent 3 hours and 37 minutes in a day shuffling between the platforms. Facebook Ads in particular are quite promising as they usually succeed at any stage of the funnel.
Through Facebook targeting inclinations, you can actually narrow down the target audience by their gender, interests, age range, location, profession, marriage, or mother and the list goes on and on. 
As they are affordable for SMEs, you could run paid advertising stating you have early-bird offers, exclusive discounts for people who sign up by EOD, or any promotions at all. On that note, we recommend any business implement retargeting. But when you do, make sure you are targeting based on the actions they have taken earlier.
Go the extra mile, and create eye-catchy images with captivating captions in a way to make conversions happen. For your information, the users are 76% likely to click on the retargeted ad. 
#5 Create Thoughtful Content 
All the world needs right now is a little support. Be empathetic and sensibly positive with your digital marketing strategy by posting inspiring and encouraging content. Instead of bombarding them with calls to buy your product, ask them how they are holding up, ask if there is anything you could do, or where are they struggling. Be a human first and an executive next. 
The bottom line is, you need a solid digital marketing strategy to boost your sales. Oh, wait a minute! No matter what kind of strategy you implement or the type of ads you run, do not forget to measure your actions and the results. We as the best marketing agency in Hyderabad offer various digital marketing services to transform your business from the physical world to the digital world.