SEO is the method of improving a website to position it on the 1st ranking page of search engines such as Google and others. Nowadays, we are developing new web pages every day. The creation of modern websites has grown by more than 600% in the last decade. Keyword analysis and blog articles are not adequate as competitiveness grows harder every day. Here's a summary of how on-page SEO methods work in digital marketing in hyderabad.
You're searching for digital marketing, for starters. When you search on Google, you can notice several digital marketing companies on every search engine with these unique keywords. Additionally, it is critically compatible with search engine analytics as a company owner to allow the firm to grow above all. It is better to partner with any leading SEO company in Hyderabad or your area to take full advantage of this initiative.
In 2023, let's unfold the 8 Best On-Page SEO methods:
Rich Snippets and Featured Snippets
Intensify your Meta-descriptions.
Optimized H1 Tags.
Developing fresh content with targeted keywords.
Giving Images Alt-Tags.
Optimize to meet user readability.
Better keyword research.
Internal linking.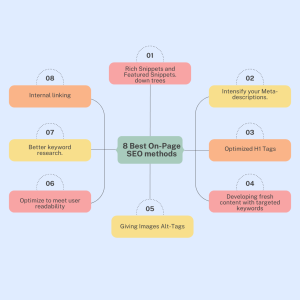 Rich Snippets and Featured Snippets:
Structure your content using appropriate schema markup to enhance its eligibility for rich snippets and featured snippets.
Ensure your content is concise, informative, and addresses common user queries related to your target keywords.
Use clear and concise language, avoiding jargon and complex sentence structures.
Include relevant images and videos to enhance the richness of your content.
Intensify on your Meta-descriptions:
In search engine rankings, meta descriptions are significant and are crucial in the results pages. We make users click on your website and draw them to your web page via the search engine results page
Tips to remember:s (SERPs)
Ensure all the Meta-descriptions are effectively persuasive.
Keep in mind the limit of 160 characters.
Include your target keyword both naturally and strategically within the description.
Avoid using duplicate meta-descriptions.
Avoid keyword stuffing.
Optimized H1 Tags:
Use a single H1 tag per page to clearly identify the main topic of your content.
Incorporate your primary target keyword naturally within the H1 tag.
Keep your H1 tag concise and descriptive, avoiding keyword stuffing.
Align your H1 tag with the search queries your target audience is using.
Developing fresh content with targeted keywords:
The heart of your web is your content. Make sure that you build original and exclusive content for your website with relevant words.
Tips to remember:

Google disagrees with keyword stuffing, using the keywords 3-4 times according to the document duration.
Establish internal and external website links. External links (linking your web page to your social networking accounts and vice versa) generate your brand traffic and external ties.
Google determines how prominent and highly promoted your brand is on the internet platform (the use of links to other reputable and similar websites on your website and certain links on your website that are important for your business).
Create original content for all outlets of social media, including news releases, forums, guest posts, etc. Do not copy and paste it, because you would receive identical content from Google which will penalize you for duplicacy.
Use synonyms and related keywords to enhance the relevance of your content.
Research relevant keywords that align with your target audience's search queries
Giving Images Alt-Tags:
The image name is attributed to an 'alt tag.' A suitable alt tag is used on images for the search engine to access what the image classifies too.
Enter your focus keyword, but don't overload it either in the image description. Remain SEO-compatible with your image file names.
Tips to remember:
Name your images to offer an insight into the context of the image.
Briefly describe the content and purpose of each image in the alt tag
Optimize image file names to accurately reflect the image content.
Optimize to meet user readability.
Your content must be user-friendly, which allows users to read it easily and conveniently understand it. But also don't finish up cluttering it extremely. Guarantee that your user feels your website is meaningful, clean, professional, and comfortable.
Tips to remember:
Keep the paragraphs small, it will lose the interest of the reader over 2-3 lines otherwise.
Use bullet points and numbered lists to enhance readability and structure.
Incorporate relevant images and videos to engage users and break up text.
Ensure your website is visually appealing and easy to navigate
Better keyword research:
The title tag describes the SERP page and shows the search engine what it means. The keyword you are searching for will apply to your article.
The search engine instead displays the user-searched keywords or phrases. It in effect improves the website's exposure and therefore, the CTR (click-through rate).
Tips to remember:
Don't try to copy-paste title tags.
Limit your title tag to 55 characters max.
Write the title tag in the same format below:
Main Long Tail Keyword> Your brand>Geo Location
Internal linking:
Ensure you have provided links to another page on your website that your users will land on. It is important as it improves keywords on the webpage internally and encourages users to navigate through the web. This proves that the keyword for your website is appropriate for the search engine.
Tips to remember: 
Select a keyword for your website that is appropriate for the search engine.
Create relevant internal links within your website to connect related pages and enhance user navigation.
Use descriptive anchor text for internal links to provide context and indicate the linked page's content.
Strategically distribute internal links throughout your website to spread link equity and boost ranking potential.
Monitor internal linking patterns to avoid creating link circles or orphan pages.
Also, check out On-Page SEO Factors 
Why Choose Vihaan Digitals – Best SEO Services in Hyderabad
Our digital marketing policies are aimed at increasing visibility and achieving significantly higher target audiences. Our perception of seamless clients & customers and engaging with them through a well-defined digital partnership paradigm is essential to the quality of what we do with our clients.
Check out the various tools we provide and learn how the innovative approach of Vihaan Digital will benefit your company. Please contact us if you are searching for one or more of the following services: